LOON
A beautiful piece of Fine Art.
I love the gentle blue hue that was added to give it the feel
of the morning fog, lingering on the lake. The loon is so life-like and I am thrilled with this purchase.
I ordered the framed, large print through the Pixel link, and it arrived in perfect condition.
It was well packaged in multi-layers of cardboard and protective bubble wrap.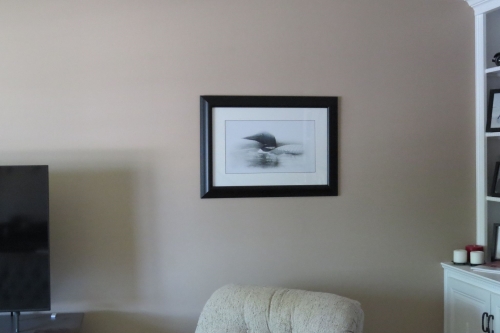 I am thrilled to have one of
Judy Horan's prints on display.
(Edward Bicket)
ABANDONED
This is a very relaxing
Painting that would look
great in any room.
(Timothy Draper)
BLUE HERON
Whoa!!!!! That's totally incredible. (Tony Clark)


This is beautiful.
Great job! (Jameson Way)
BALD EAGLE II
So incredible...the detail is extraordinary! You are immensely talented, Judy...Love your work! (Aurelio Zucco)
Joyous!! You really captured warmth and personality!
_ JerryAnn Clifford

Beautiful portrait. Amazing how you captured light and shadow and smile!
- Karen Rutledge
Well isn't she the sweetest thing with her dimples!!
You are very gifted
- Ronda Michels

I love the expression you've captured! Bravo!
- Roseann Castagno McPhaul
Wow! The subtleties in the sculpting of the face are remarkable!
At this small size too!
- Jan Dawson

I love how you use the colours on the skin tone in your paintings!
- Annamarie Douglas

GREY WOLF
WoW!
Vraiment magnifique.
(Synede Lepau)

Oh, Judy!
Your art is really remarkable -
your pieces are so moving (Mural Mosaic's Global Roots Project)

WALES
Oh my !!! Gave me goosebumps.
Like we're having a conversation.
Spectacular conveyance of emotion.
Brilliant
(Shirley Torrence Bunker)

"WOW...beautiful work Judy.
I really love this one... really captivating"
(Cassie Q.)
© Copyright Judy Horan Designs